Stucco Caulking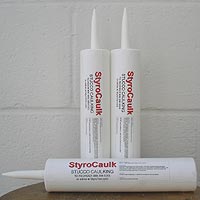 A 70% solid mixture of high-performance acrylics and sand specially blended for breathability, adhesion, flexibility, texture and toughness made to fill cracks in stucco walls as you would with regular caulk. It is not affected by water or moisture-penetration, and is designed for a long bonding life without cracking and peeling.

Exterior Stucco Repair
Stucco repair just got a whole lot easier with Exterior Stucco StyroCaulk, the first-ever stucco texture caulking. No mixing. A caulking gun is all you need. After a long period of research and development, FoamTrim has perfected the delivery system for sand-based caulking to fill gaps and cracks in stucco finishes.

Repair gaps or cracks with a strictly stucco look using StyroCaulk. It doesn't get any easier than that! For swirled finishes, all you need is a sponge and a little water to create the texture you need. Fill, then allow texture to harden just slightly. Then use the damp sponge to swirl and feather the texture to match your existing pattern. Allow the texture to dry for six to 24 hours, depending on temperature, humidity, and thickness of application. Then paint.

Matches stucco texture
Weather resistant
Stays put - no shrinking
Convenient and economical

Please note StyroCaulk is not an adhesive.